Community Newsletter November edition is here! As we take a quick glance back throughout 2021, we as a community have completed, gained, and accomplished a lot! From the entire team at StreamSets, thank you for your community contributions. 
In next month's newsletter we will announce and showcase our Community Champion of the Quarter. Each quarter, our Community Champion will earn:
Their very own Champion badge
A personal highlight piece, and
Custom SWAG!
There's still time to contribute and land your very own Community Champion title.
What's New
Industry News
Recent Community Questions
StreamSets Community Corner
Sources And Destinations Podcast: Bringe listen all you want.
Listen to all eight episodes. Guests range from Banjo Obayomi discussing using machine learning to identify low latency DDOS attacks and generating data to feed the models, to Lorna Mitchell chatting with our hosts about her technical writings and her many books on PHP, Git Fundamentals for Web Developers, and DZone Refcard on Redis.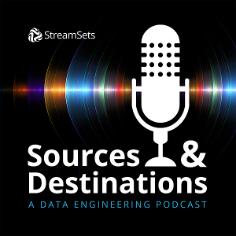 Listen to wherever you get your podcasts, here.
If you would like to join our host, Sean Anderson, to discuss the latest on common design patterns and best practices email us at community@streamsets.com.
StreamSets Academy: new and improved!
Head over to the newly re-launched StreamSets Academy to take a course or certification exam. Learn how to develop StreamSets' pipelines with instructor led training, self-paced video training, tutorials, and articles.
The "DataOps Platform Fundamentals" is the first video course and the first modules are available now. Check back often as additional modules and courses will be added regularly.
We've also added a new section in the Community for StreamSets Academy where you can post questions related to our self-paced video course as you follow along. We're here eager to help!