Streamsetters! 
2 Community members will each earn a $250 Amazon Gift card by submitting the most impressive or creative Pipelines. Please share your pipeline within this category (Show us your Pipeline). 
It's easy to submit, Make sure to:
Create a new Topic in the Show us your Pipeline category. (Each submission needs to have its own topic thread)

Add an image of your sample pipeline. (MAKE SURE NO PERSONAL,CREDENTIALS, OR COMPANY INFO IS SCREEN SHOT OR SHARED)

Add an explanation of 2-3 sentences of your pipeline use case and benefits.

Lastly, Make it fun! Create something useful, fun, creative, and or wacky. 
The closing date of our 1st "Share your Pipelines" is March 31, 2022
Example Entry: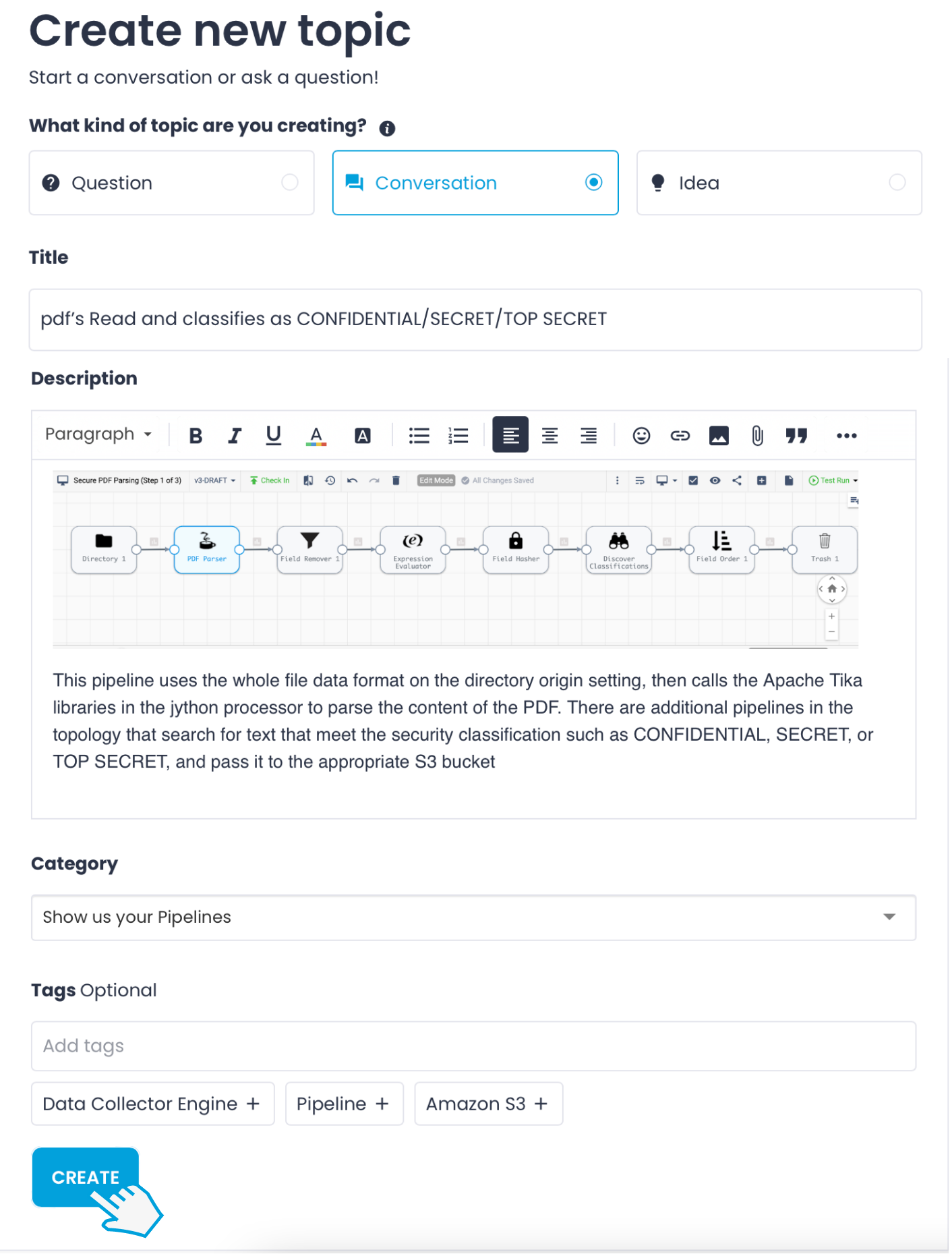 Here are other sample Pipelines. https://github.com/streamsets/pipeline-library
How we will choose the three winners: 
Winner will be announced on Mar 31, 2022

. 

The two winners will be graded on overall impressions, creativity, originality, and explantation.

Winners will be chosen by the StreamSets Internal team.

FAQ: 
Needs to be YOUR pipeline 

Do NOT show your credentials, actual data, or table structure

May have multiple submissions.

Submit each as its own topic.

 

Winners must validate their email address within 7 business days from DM from

@Drew Kreiger

 within this (StreamSets Community Platform) platform

.

Once winners' emails

are verified, gift cards will be sent digitally via email. 

Winners will also receive a "Show us your Pipeline" winner badge within the platform. Stay tuned! 

If you have questions, DM me here

@Drew Kreiger